We are open from 0900h to 1630h, 364 days a year
Welcome to Eagles Fare - Restaurant & Wedding Venue
or 082 671 8382

Eagles Fare, Restaurant & Wedding Venue

Set in the tranquil and beautiful abode of the Black Eagles, on route to the Cradle of Humankind, you will find Eagles Fare Restaurant nestled in the heart of the Walter Sisulu National Botanical Garden, West of Johannesburg.

Having opened its doors in August 2004, you are welcomed to relaxingly enjoy this indigenous habitat and invited to peacefully take pleasures in homemade cuisine, all the while absorbing natures wonders ….. weavers making music, the ± 150year old Modjadji Cycad …..

Whether savouring a freshly baked muffin or indulging the Seagulls Fare Pasta, you will find an excuse, such as an Apple Crumble, to extend your stay in this soothing locale. In defense, a return visit can be justified by the need for breakfast, a teatime scone, lunch or an afternoon snack. It is the perfectly serene backdrop to gather with family and friends for Sunday lunch with the Buffet's variety, so close to home.

You may even want to share a special evening event with dearest guests, privately in the function room, allowing them the experience of the call of the Jackal (wedding guests from afar will be in wonderment at Gauteng's diversity).

The calm environment opens the minds of conference delegates, brainstorming brilliant new ideas, to refreshingly invigorate potential clientele and take back the overwhelming peace into their office milieu.

Not only do our Senior Citizens enjoy their Tuesday Pensioners Day in the Garden, but so too our fellow Global inhabitants from around the world, who flock to our Rainbow country, treasuring a guided and informative walk that includes a view of the Black Eagles of Roodekrans. They then feel rewarded as they scrumptiously savour South African delights that harmonize their palates.

N.B.

If we coming to eat at the restaurant, do we still need to pay the entrance fee?

Yes, we're afraid so. This is the gardens only form of income to keep up such a beautiful setting.

Send us your special wedding requirements. Give us a call on 082 671 8382 or e-mail us

eat@eaglesfare.co.za
Please help us to help you and maintain legislative protocols!

WHAT IS EAGLE'S FARE DOING TO COMBAT COVID-19 VIRUS?

We are doing everything in our power to protect our patrons and employees during this challenging time ahead.

In light of social distancing, may we please encourage you to make advance reservations!

Thank you in advance for your continued support!

On Sunday 08 March, all staff were briefed and educated on the state of affairs and hygiene – wash hands regularly for 20 seconds (sing happy birthday song twice) – after touching any surfaces/items, sneezes, coming into contact with any person/s; don't touch your face, cough/sneeze into elbow, greet with a bow, etc

On Sunday 08 March, all staff were issued with a personal spray sanitiser for their personal use and to keep on themselves permanently

On Sunday 08 March, Sanitizer spray bottles were placed in strategic places around the restaurant – toilets, computers, basins, work stations and waiter stations

Regular sanitising of work surfaces, counter & table tops, POS stations, cutlery holders, menus, wine lists, condiment bottles, doors & handles, taps, phones, card machines, toilets, etc

Cutlery to be cleaned with boiling water, wrapping table surfaces sanitised before use and intermittently

All kitchen personnel wear gloves

We have a sufficient supply of masks and face shields, as well as gloves and sanitiser

Any staff member that feels remotely ill, has a cough or sneezing has been instructed to stay home and self-isolate

Patron tables & chairs have been moved further apart to allow greater space between tables and give waiters space to stand a little way away from tables when taking orders.

Regular updates and continued constant hygiene revision

All sanitisers are alcohol based as per instruction

The premises have been decontaminated and sanitised

Staff training has taken place

All patrons to please wear masks on entering

All patrons to please complete visitor register

Disposable & online menu is available for your safety

Eagle's Fare Restaurant is nestled in the beautiful Walter Sisulu National Botanical Garden.
| | | | |
| --- | --- | --- | --- |
| | | | |
| | | | |
| | | | |
| | | | |
| | | | |

Eagles Fare, Restaurant & Wedding Venue
Set in the tranquil and beautiful abode of the Black Eagles, on route to the Cradle of Humankind, you will find Eagles Fare Restaurant nestled in the heart of the Walter Sisulu National Botanical Garden, West of Johannesburg.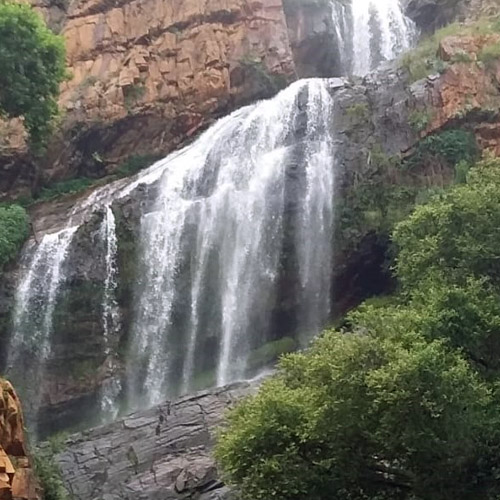 Having opened its doors in August 2004, you are welcomed to relaxingly enjoy this indigenous habitat and invited to peacefully take pleasures in homemade cuisine, all the while absorbing natures wonders ….. weavers making music, the ± 150year old Modjadji Cycad …..
Whether savouring a freshly baked muffin or indulging the Seagulls Fare Pasta, you will find an excuse, such as an Apple Crumble, to extend your stay in this soothing locale. In defense, a return visit can be justified by the need for breakfast, a teatime scone, lunch or an afternoon snack. It is the perfectly serene backdrop to gather with family and friends for Sunday lunch with the Buffet's variety, so close to home.
You may even want to share a special evening event with dearest guests, privately in the function room, allowing them the experience of the call of the Jackal (wedding guests from afar will be in wonderment at Gauteng's diversity).
The calm environment opens the minds of conference delegates, brainstorming brilliant new ideas, to refreshingly invigorate potential clientele and take back the overwhelming peace into their office milieu.
Not only do our Senior Citizens enjoy their Tuesday Pensioners Day in the Garden, but so too our fellow Global inhabitants from around the world, who flock to our Rainbow country, treasuring a guided and informative walk that includes a view of the Black Eagles of Roodekrans. They then feel rewarded as they scrumptiously savour South African delights that harmonize their palates.
N.B.
If we coming to eat at the restaurant, do we still need to pay the entrance fee?
Yes, we're afraid so. This is the gardens only form of income to keep up such a beautiful setting.
Send us your special wedding requirements. Give us a call on 082 671 8382 or e-mail us
eat@eaglesfare.co.za
Please help us to help you and maintain legislative protocols!
WHAT IS EAGLE'S FARE DOING TO COMBAT COVID-19 VIRUS?
We are doing everything in our power to protect our patrons and employees during this challenging time ahead.
In light of social distancing, may we please encourage you to make advance reservations!
Thank you in advance for your continued support!
On Sunday 08 March, all staff were briefed and educated on the state of affairs and hygiene – wash hands regularly for 20 seconds (sing happy birthday song twice) – after touching any surfaces/items, sneezes, coming into contact with any person/s; don't touch your face, cough/sneeze into elbow, greet with a bow, etc

On Sunday 08 March, all staff were issued with a personal spray sanitiser for their personal use and to keep on themselves permanently

On Sunday 08 March, Sanitizer spray bottles were placed in strategic places around the restaurant – toilets, computers, basins, work stations and waiter stations

Regular sanitising of work surfaces, counter & table tops, POS stations, cutlery holders, menus, wine lists, condiment bottles, doors & handles, taps, phones, card machines, toilets, etc

Cutlery to be cleaned with boiling water, wrapping table surfaces sanitised before use and intermittently

All kitchen personnel wear gloves
We have a sufficient supply of masks and face shields, as well as gloves and sanitiser

Any staff member that feels remotely ill, has a cough or sneezing has been instructed to stay home and self-isolate

Patron tables & chairs have been moved further apart to allow greater space between tables and give waiters space to stand a little way away from tables when taking orders.

Regular updates and continued constant hygiene revision

All sanitisers are alcohol based as per instruction

The premises have been decontaminated and sanitised

Staff training has taken place

All patrons to please wear masks on entering

All patrons to please complete visitor register

Disposable & online menu is available for your safety

Eagle's Fare Restaurant is nestled in the beautiful Walter Sisulu National Botanical Garden.